Resilient. Fierce. Adaptable. Generation X women have endured multiple market crashes, shifting family dynamics, major technological changes, and global events. They just might be some of the toughest women around. According to one nationwide study[1]https://www.bls.gov/opub/mlr/2022/article/pdf/time-use-of-millennials-and-generation-x-differences-across-time.pdf, these women pay the bills, buy the gifts, do the shopping, clean the house, pick up their kids, tend to school-related activities, even take care of aging parents… the list goes on – and this is often on top of a full-time job.
Sound familiar? If you're a Gen X woman, you might be compared to a superhero by many– expected to do everything and be everywhere all at the same time. Shouldn't these same women be invited to the table of financial planning and investment?
PARTNERS IN FINANCIAL FREEDOM, LITERACY AND INDEPENDENCE
For those of you looking to the horizon of retirement, the conversation about financial literacy and awareness of your financial state is critical in order to achieve the fulfilling and peaceful retirement you deserve.
At Arsenal Financial, we value partnership that includes everyone in this conversation. For the purposes of this discussion, we look at the historic barriers that Gen X women have faced due to economic fluctuations, family dynamics and social expectations. Identifying these barriers and obstacles creates the opportunity to step toward financial freedom and retirement.
Our process begins wherever you are and keeps respect, dignity and your wellbeing top of mind at every turn. To understand the obstacles that Gen X women face and the steps to overcome financial planning and investment obstacles, it's important to understand who these women are.
Who are Gen X Women?
Who, exactly, are Gen X women? Generation X is the generation born between 1965 and 1980, smack dab in the middle of the Baby Boomers and Millennials. One report found that 40 million women aged 50 and older represent[2]https://www.forbes.com/sites/amyschoenberger/2021/10/07/why-gen-x-women-will-not-be-aging-quietly/?sh=70af2a062b6b $15 trillion dollars in purchasing power; they are the healthiest and most active generation in history.
Despite these impressive stats, Gen X women are often overlooked and ignored in the marketing and advertising efforts of the finance world. Gen X women tend to be the rockstar of the family and take on the role of family CFO. But in reality, many Gen X women do not have nearly enough money saved for retirement and face significant disadvantages in the financial world. These women have grown up watching their mothers hand over financial control to their husbands while they stayed home and took care of the house. When it came time to step into their own, Gen X women had to reinvent the wheel.
What Are The Challenges That Gen X Women Face?
GenX women have historically faced a disproportionate amount of professional, social and economic challenges, including but not all comprising:
Two crushing financial recessions
The market crash of the dot.com era
Cultural, gender and professional barriers
Fighting for Equal Pay in the workplace[3]

https://www.eeoc.gov/equal-paycompensation-discrimination#:~:text=The%20Equal%20Pay%20Act%20requires,whether%20jobs%20are%20substantially%20equal.
Gen X women have persevered beyond these challenges, becoming leaders in the workplace, raising thriving families, managing their personal and family finances and more. How is it that Gen X women statistically fall behind in retirement and financial planning compared to other generations such as the Baby Boomers?
That being said, Gen Xers (41 to 56) are slightly ahead of their younger counterparts[4]https://www.cnbc.com/2021/08/20/how-much-each-generation-saves-for-retirement.html. Financially, Gen X women, on average, have $67,100 in their personal savings and $98,900 put away for retirement, according to one CNBC report. However, Gen Xers and Millennials trail far behind Baby Boomers (57 to 75), who have an average of $102,400 in personal savings and $138,900 in their retirement accounts. According to Fidelity's savings benchmarks[5]https://www.fidelity.com/viewpoints/retirement/how-much-do-i-need-to-retire, people aged 55 should've saved approximately seven times their salary for retirement. Those aged 60 should've saved eight times their salary.
Here's the catch: Gen X women (currently 50 to 55 years old) will have to work for at least 15 more years before they can retire and claim Social Security. One study found that Gen X women are particularly disadvantaged[6]https://ilcuk.org.uk/gen-x-women-facing-particular-challenges-to-save-for-retirement/ when it comes to their retirement plans. One in six women had no pension savings at all[7]https://ilcuk.org.uk/gen-x-women-facing-particular-challenges-to-save-for-retirement/. Why? Likely because these women have an extra burden of care that has an impact on their employment. Gen X women are what we call a "sandwich generation," and they have the added burden of caring for both children and their aging parents. In fact, Gen X mothers are four times more likely to have taken a career break[8]https://ilcuk.org.uk/gen-x-women-facing-particular-challenges-to-save-for-retirement/ (27% vs 6%) and three times more likely to work part-time (31% vs 9%) than Gex X fathers.
This generation of women, as a result, manage a lot of anxiety about making ends meet with so much on their plate. "By generation, Gen X exhibits the highest anxiety with concerns about 'making ends meet this year and inflation,'" one study found[9]https://www.heartsandwallets.com/pages/landing1l/Attitudes_Sentiment_Strategies_to_Engage_Investors_in_the_Pandemic-Inspired_Financial_Awakening.
The Myth That Women Can "Do It All"
In 2013, Facebook COO Sheryl Sandberg encouraged millions of women to lean in[10]https://www.youtube.com/watch?v=PuHnC3VJVSA. That viral TED Talk then became its own book[11]https://leanin.org/book and, eventually, its own phenomenon. Women were encouraged to break through the glass ceiling and say 'YES' to more responsibility.
But for women already juggling too many responsibilities, the concept of "leaning in[12]https://leanin.org/book" only led to more burnout and more feelings of inadequacy. It's not possible for every woman to be like Dr. Meredith Gray or Sheryl Sandberg, after all.
It manifested as:
Anxiety
Overwhelm
Pressure
Concern
Shame / inadequacy
Lack of confidence
Not enough time (for anything)
Fifteen years later, women are still experiencing the myth of leaning in[13]https://www.inc.com/jessica-stillman/michelle-obama-is-really-not-a-fan-of-sheryl-sandbergs-lean-in.html – and trying to fight it. You can't always have it all, and you can't always do it all. One study[14]https://hbr.org/2018/07/lean-in-messages-and-the-illusion-of-control%27Lean found that women did feel like they could do anything after reading Lean In, but they also blamed other women more and were more skeptical of policies to help women.
"We are by no means suggesting Sandberg intended to blame women for inequality," the psychologists behind the study concluded in their Harvard Business Review write-up of the findings[15]https://hbr.org/2018/07/lean-in-messages-and-the-illusion-of-control%27Lean. "But we do fear that Lean In's main message — which emphasizes individual action as a way to address gender inequality — may lead people to view women as having played a greater role in sustaining and even causing gender inequality."
Michelle Obama, a fellow Gen X woman, also expressed her feelings on the myth of "having it all."
"That whole 'so you can have it all.' Nope, not at the same time," Michelle Obama said, according to The Cut[16]https://www.thecut.com/2018/12/michelle-obama-lean-in-becoming-book-tour.html. "That's a lie."
"And it's not always enough to lean in, because that s**t doesn't work all the time," she added.
So where does that leave women?
Taking Charge of Financial Planning and Investing
We have discussed the obstacles that Gen X women have faced and how this has historically caused them to fall behind in financial education[17]https://www.roostify.com/resources/women-wealth-why-financial-literacy-is-essential-to-womens-financial-success#:~:text=In%20a%20survey%20of%20150%2C000,than%20attempting%20to%20answer%20and and financial literacy, causing a huge impact on their financial savings. One study found that 35% of Gen X women do not have any retirement savings[18]https://medium.com/@nancy_57505/the-financial-clout-of-gen-x-women-4daf5f3db8b. And, of the Gen X women who have saved for retirement, 44 percent have accumulated less than $50,000[19]https://medium.com/@nancy_57505/the-financial-clout-of-gen-x-women-4daf5f3db8b.
Rewriting The Narrative: Gen X Women Achieving Financial Freedom And Optimal Retirement
At Arsenal Financial, we believe that financial freedom and independence is for everyone, and we are your teammates in this journey. We aspire to help Gen X women co-author a new narrative. Here are some of the chapters:
Financial literacy: Studies have shown that women struggle with financial literacy when compared to their male counterparts[20]

https://www.tiaainstitute.org/about/news/financial-literacy-and-wellness-among-us-women-gender-gap#:~:text=Sixty%20percent%20of%20men%20correctly,compared%20with%2015%25%20of%20men.

. Part of that stems from a lack of discussion about investing and finances as many women – both Gen X and otherwise – face a lack of financial literacy. Let's talk about the world of finance and bring clarity to these pieces.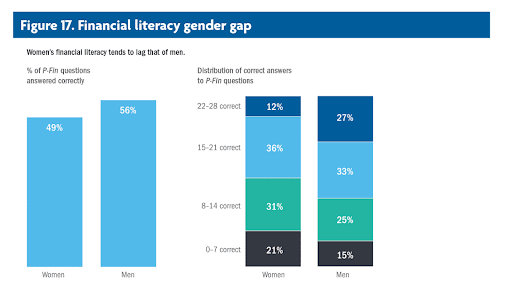 Financial advisor: Women, on average, retire with two thirds the money that men do[22]

https://www.nytimes.com/2016/06/04/your-money/for-many-women-adequate-pensions-are-still-a-far-reach.html

. And Black women retire with less money than white women[23]

https://www.urban.org/urban-wire/women-are-building-more-wealth-racial-gaps-persist

. Consider working with a trusted financial advisor to help build a customized financial plan to help you achieve what you want out of life. Women may face stigma when getting help from a financial advisor ("why can't you do it yourself?"), but time is money–and is a resource that most women within this age bracket have very little of.
Generate conversations: Have you ever felt as if you cannot talk about finances with your friends or family? Don't let stigma and shame keep you from having open and honest conversations about your finances. Share information with others and help lift others up!
Start early: Wealth disparities start very early in life. Studies have shown that parents pay male-identifying children twice as much[24]

https://www.usatoday.com/story/life/allthemoms/2018/07/03/gender-pay-inequality-parents-allowance-boys-girls/755056002/

as they do their female-identifying children. If you're a mother, make sure to start your child's financial journey early. Teach them about savings, investments, and retirement plans so they don't repeat your mistakes.
Final Thoughts
The journey to financial freedom is all about you and your needs. Have the courage to get out of your own way, and kickstart the financial health that you absolutely deserve. It's critical to come to the table emboldened to lay out your visions and desires, free from fear of the unknown or insecurity.
Whether you are a Gen X woman, a small business owner, a Baby Boomer nearing retirement, or a busy millennial with a growing family, there are a number of ways we can help you start – or continue – your financial journey. We can help guide you along the pathway and provide further education and confidence in a safe and judgment-free environment.
What does that look like? That means working with you on financial education in a respectful environment. That means leaning on us, and counting on us, to provide insights on your journey. That means treating you with the kindness and respect you deserve.
It's important now, more than ever, to formulate a strong, long-term plan for your life as you wrap up your career and head into retirement. The right financial planner will support you in learning about your finances and leave you feeling knowledgeable, confident, prepared and ready for the future.
Begin Your Financial Planning Journey Today
If this article resonated with you and you are ready to begin your financial journey, seasoned in investment planning or not, we want to hear from you. Let's discuss your goals and long-term vision and discuss the action plan fit for you.
Whether retirement is a couple years away or 10 years down the road, it's time to take charge of your financial freedom.
References

↑

1

https://www.bls.gov/opub/mlr/2022/article/pdf/time-use-of-millennials-and-generation-x-differences-across-time.pdf

↑

2

https://www.forbes.com/sites/amyschoenberger/2021/10/07/why-gen-x-women-will-not-be-aging-quietly/?sh=70af2a062b6b

↑

3

https://www.eeoc.gov/equal-paycompensation-discrimination#:~:text=The%20Equal%20Pay%20Act%20requires,whether%20jobs%20are%20substantially%20equal.

↑

4

https://www.cnbc.com/2021/08/20/how-much-each-generation-saves-for-retirement.html

↑

5

https://www.fidelity.com/viewpoints/retirement/how-much-do-i-need-to-retire

↑

6,

↑

7,

↑

8

https://ilcuk.org.uk/gen-x-women-facing-particular-challenges-to-save-for-retirement/

↑

9

https://www.heartsandwallets.com/pages/landing1l/Attitudes_Sentiment_Strategies_to_Engage_Investors_in_the_Pandemic-Inspired_Financial_Awakening

↑

10

https://www.youtube.com/watch?v=PuHnC3VJVSA

↑

11,

↑

12

https://leanin.org/book

↑

13

https://www.inc.com/jessica-stillman/michelle-obama-is-really-not-a-fan-of-sheryl-sandbergs-lean-in.html

↑

14,

↑

15

https://hbr.org/2018/07/lean-in-messages-and-the-illusion-of-control%27Lean

↑

16

https://www.thecut.com/2018/12/michelle-obama-lean-in-becoming-book-tour.html

↑

17

https://www.roostify.com/resources/women-wealth-why-financial-literacy-is-essential-to-womens-financial-success#:~:text=In%20a%20survey%20of%20150%2C000,than%20attempting%20to%20answer%20and

↑

18,

↑

19

https://medium.com/@nancy_57505/the-financial-clout-of-gen-x-women-4daf5f3db8b

↑

20

https://www.tiaainstitute.org/about/news/financial-literacy-and-wellness-among-us-women-gender-gap#:~:text=Sixty%20percent%20of%20men%20correctly,compared%20with%2015%25%20of%20men.

↑

21

https://www.tiaainstitute.org/about/news/financial-literacy-and-wellness-among-us-women-gender-gap#:~:text=Sixty%20percent%20of%20men%20correctly,compared%20with%2015%25%20of%20men.

↑

22

https://www.nytimes.com/2016/06/04/your-money/for-many-women-adequate-pensions-are-still-a-far-reach.html

↑

23

https://www.urban.org/urban-wire/women-are-building-more-wealth-racial-gaps-persist

↑

24

https://www.usatoday.com/story/life/allthemoms/2018/07/03/gender-pay-inequality-parents-allowance-boys-girls/755056002/